Each game uses different controls, most DOS games use the keyboard arrows. Some will use the mouse , "Alt" ,"Enter" and "Space bar".
Play Euro Soccer Game Offline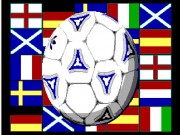 1: Download DOSBox for your Operating System Here
2: Download and extract Euro Soccer Game
Basic Setup and Installation of DosBox here
DOSBox is a DOS-emulator that uses the SDL-library which makes DOSBox very easy to port to different platforms.
Classic game similar to : Euro Soccer game